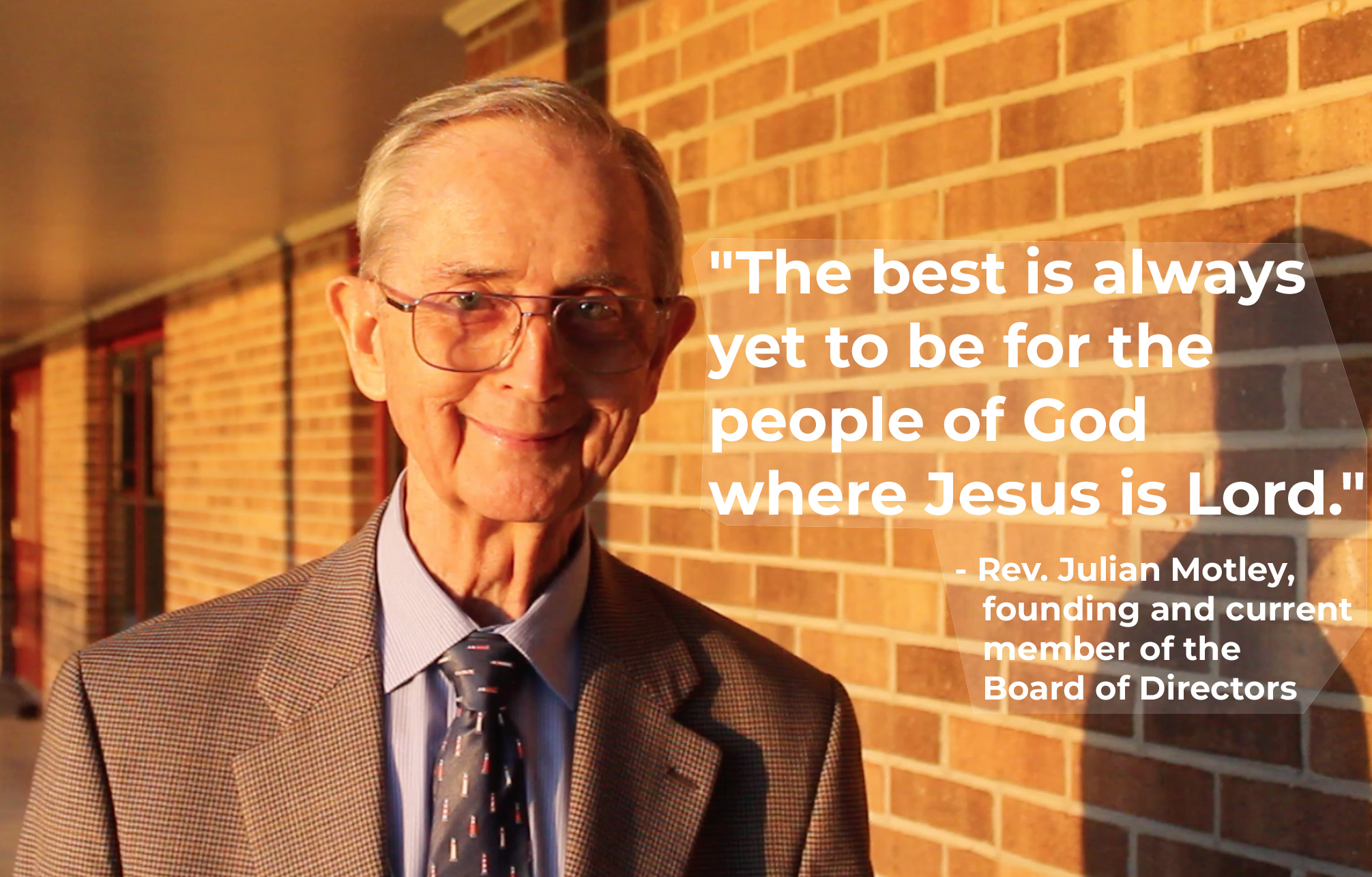 MY CAMP STORY
Youth Camps For Christ
Julian M. Motley
My CAMP Story begins with a relationship with the co-founders of Youth Camps For Christ, Erbie, Jr. and Mrs. Linda Mangum, now Linda Harris.
I am Julian Motley, fifty year member of the Board of Directors and pastor of the Founder's home Church when this ministry had its beginning.
When I became his pastor in 1963, Erbie, Jr., had graduated from N.C. State University with a degree in Nuclear Engineering, and had held a prestigious position as a nuclear scientist in Schnectady, NY.
By the time I got to know him, God had done a great work in his heart and called him to give up his engineering profession and prepare to become a minister of the Gospel.
He at that time, therefore, had gone on to earn a Bachelor of Divinity Degree from Gordon Divinity School in Massachusetts, apparently assuming that he would become a pastor in New England.
Once again God had other plans for Erbie. He did not really know why but he felt directed to enroll in Southwestern Baptist Theological Seminary in Fort Worth, Texas.
This was, however, a pivotal point in his life at which God made a strategic move that would take Him into a ministry of Christian Camping.
There at Southwestern Seminary he was destined to meet, fall in love with, and marry a soul mate to join him in a life of passionate ministry to youth and children.
God had appointed him to meet a delightful and gifted young woman from Greensboro by the name of Linda Elkins, neither one of which had known that the other existed.
Linda was there to pursue a Masters Degree in Religious Education but it is certain that they both were there by God's appointment. They were destined to meet and ultimately to forge their life together into a Christian camping ministry for children and youth. They were married in 1965.
When Linda came into Erbie's life, two visions merged into one great dream that began to be unveiled in the phenomenal ministry of Youth Camps for Christ.
God's Call was upon their lives to accomplish an extraordinary work for children and youth in the Kingdom of God.
They were brought immediately by God's appointment to serve in Littleton near the shores of Lake Gaston.
My wife Jane and I hold the choice memory of having been invited by Erbie and Linda with other guests to a special dinner in the pastor's home where he served as pastor of the Littleton Baptist Church.
The occasion was to review their dream of a camp ministry for children and youth on Lake Gaston and to pray for the dream to become a reality.
We have never forgotten that evening.
The privilege of serving on the Board of Directors of YCFC from the beginning has been one of the most rewarding experiences of my life.
I have personally never been part of any Christian body or group that has enjoyed a greater depth of unity and love.
One of my strong convictions is that "The best is always yet to be for the people of God where Jesus is Lord."
This is the story of Youth Camps for Christ.
This ministry has never stopped getting better.
To God Be the Glory!