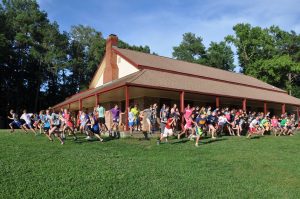 The 2017 Summer Camp dates are now posted at the "Camp Weeks 2017" page.  Registration will begin in early 2017, but you can check out the schedule now and start making plans for next summer!
As development at Camp Willow Springs has continued, it has allowed Youth Camps For Christ, Inc. to continue and complete the transition of grades 3-5 camp sessions from Camp Willow Run to Camp Willow Springs.  The 2017 summer schedule reflects the completion of the transition of CWR's summer program to work with more middle and high school campers.  The transition began in 2014 and opened up a little more room each summer for campers in grades 6-12 at CWR as increased opportunities were created at CWS.  In 2016, this allowed for the addition of a third high school week which created space for 190 more high school campers to attend.  In 2017, we will have room for 90 more middle school campers than we have ever before had over the course of a summer.
We are grateful for the continued growth and are excited that it means we will see more opportunities to share the Gospel, encourage young believers, and have fun!  Mark your calendars!