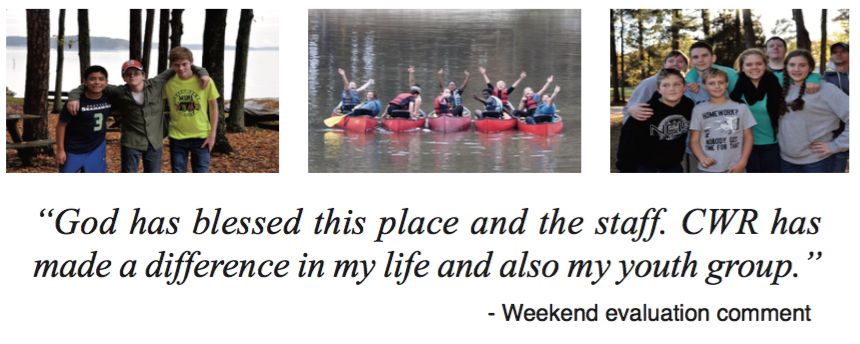 Over the first two weekends of November, we annually host fall Super High Retreats for youth groups that want to attend a combined retreat with other churches. The Camp Willow Run staff provides the entire program. This fall we hosted 21 churches for the Super High Retreats. Over 350 teen students and their leaders attended. Among the 21 churches we had 11 different denominations represented from NC, VA, MD. Also, approximately 35 weekend staff came to serve with us.
Jeremy Berger (Summit Church – Durham, NC) and Matt Windley (Bridge Community Church – Morrisville, NC) lead the sessions. A group of young adults from Liberty University lead worship both weekends. The sessions were rich and challenging from God's Word and the worships were uplifting.
As always, we partner with the leaders from each church to minister the Gospel to the students and to strengthen their churches. It is such a blessing to serve along side of the leadership, among which many are laity and parents.
A Few Leader Comments From Evaluations:
"God has blessed this place and the staff. CWR has made a difference in my life and also my youth group."
"Thanks so much for putting together such a quality retreat for our students."
"Excellent sessions. The session leader related well to the students."
"The food was super."
"Great bonding time for our youth group."
"We look forward to coming back year after year."
"Thanks for providing such a wonderful and fun environment for our students to grow closer to God."
"This retreat met everyone of my expectations and hopes for this trip."
We hope your church will attend one of our upcoming Super High Retreats. Check out the upcoming events/retreats for details and dates.
Grace & Peace,
Kevin Adams, Retreat Director